Mathias Grassow - Drones Ambient Music

| | |
| --- | --- |
| . | Perhaps my drones are 'cosmic downloads' that contain a certain message – but even if so: if perceived by our ears only, this message does not have the power to change our DNA and open up the way to more profound experiences of our inner self. Such music can, at best, give us a vague idea about who we are, and where our home is. I have the firm believe that if we manage to perceive music on more channels than just our ears – which are governed by our brain with all it's judgements and categorisations – this will enable us to perceive it on a level which still is beyond our imagination, an expanded perception that might include the relativity of space and time, and the simultaneity of past, present, future, and more … |
New: THE WORLD WARS I & II - A Symphony Of Steel
The topic of this new album has long been close to my heart.
Both world wars significantly changed the world and still influence our daily lives today.
After long deliberation, I decide to use only years as a godparent for the events as a name, free of any prefabricated opinion and direction.
Again, there is no accusation, no conviction and no influence, but everyone has the freedom to find themselves, their parents, or grandparents in the years.
No matter from which side one looks at these two wars, terrible atrocities would be committed everywhere.
With this work I want to use the music as a non-verbal means of communication. I would like to transform bewilderment and dismay into inner peace and silence in the heart and wish that this has been achieved.
Right now we are in such dire need of looking closely at what is happening politically with humans and the environment worldwide.
This work, which I call my most important work, stands for forgiveness and love. It is dedicated to all the dead and suffering. It affects us all - everyone and everywhere.
"THE WORLD WARS I & II - A symphony of steel " can be acquired NOW directly via as digital download and on CD
Mathias Grassow's official Bandcamp page
.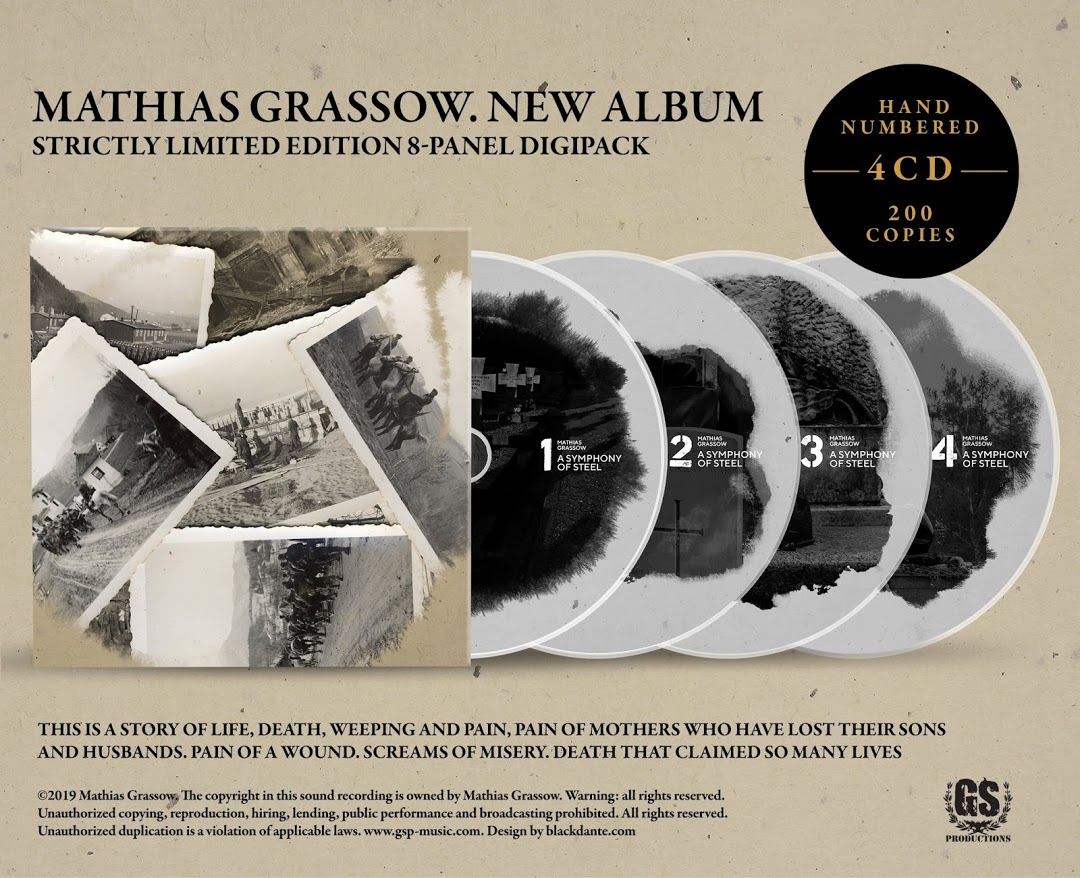 Mathias Grassow is one the leading figures of the "sacred" space music.
progarchives.com
NEW:
Connect with Mathias on Hubzilla and become part of Mathias Grassow's 3rd Ear!
Mathias Grassow has now joined the privacy aware, decentralized commnity- and publishing platform
Hubzilla
. Therefore you can now connect to a completely new (and private) Mathias Grassow Experience:
Come and join us! (It's free!)
Not only will you be able to directly communicate with Mathias and other like-minded people from his audience, we are also planing some special activities such as releasing some exclusive content just for you. All you need to do is join.
And:
We are not f*book
. This means that we do not track, collect or even sell and commercialize your data. We strongly believe in privacy and your right to determine how much you want of it.
You own your data.
You even do not need to connect to Mathias through this Hubzilla hub. You can connect from any hub you want.
access to bonus tracks that are not available elsewhere
up to date news and direct interaction from Mathias
the chance to connect with like-minded people who also enjoy and value Mathias' music

Already have got an Hubzilla account?

Connect now!
Or want to get one?

click!